North Carolina Institute
March 3-8, 2014
During the first week of March 2014, eighteen journalists braved ice storms and Nor'easters to get an up-close look at environment, resource, and agricultural issues in eastern North Carolina.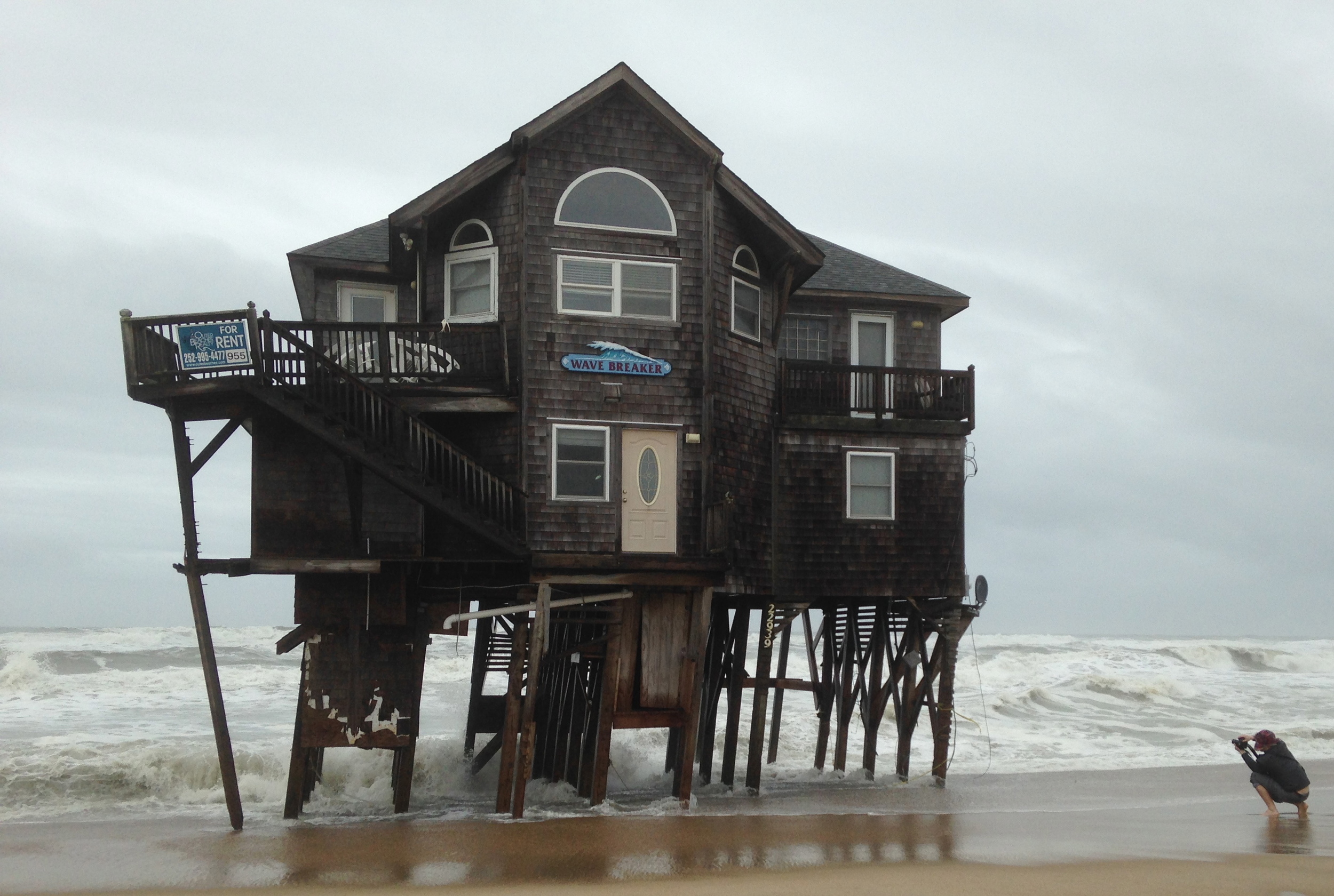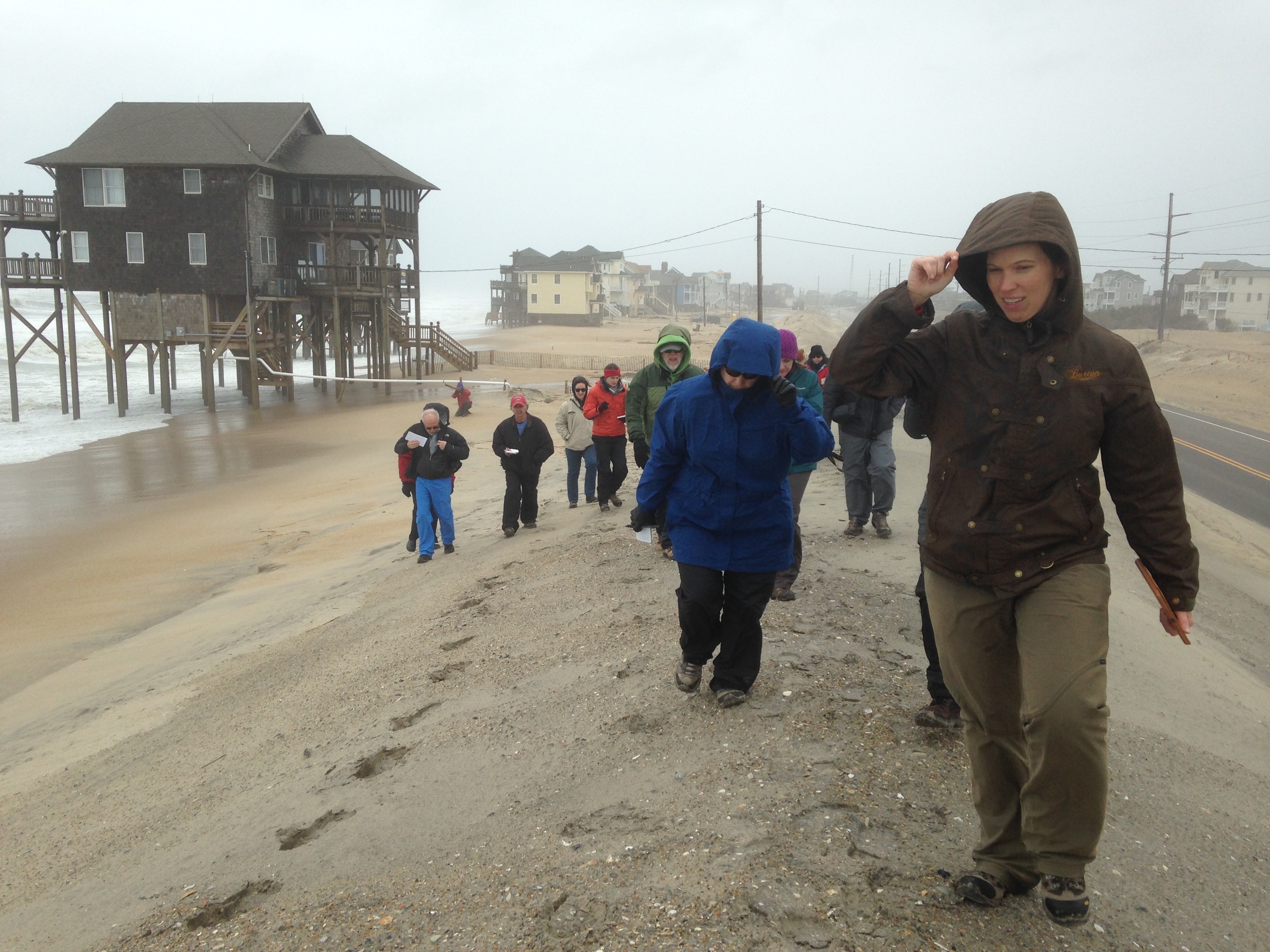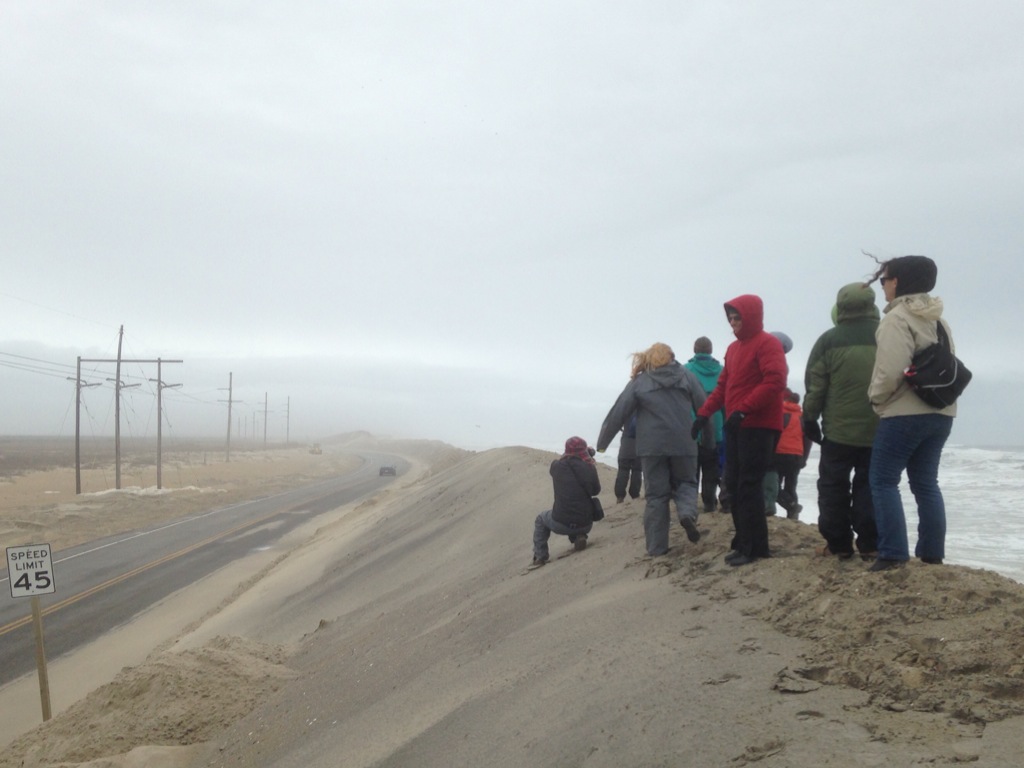 Our group toured the Ward Transformer Superfund site, where the disposal of PCB-laden soils sparked the beginning of the environmental justice movement. We had sent samples of our own couch cushions to a Duke toxicology lab in advance of the Institute, and we discussed the results with the world's leading experts on flame-retardant chemicals.
We talked about hog farms and water quality with high-ranking state officials, environmental non-profits and the mother, father and son behind the naturally raised hogs at Nooherooka Farms. We shared a meal with commercial fishermen and state fisheries regulators as we discussed the diminishing catch. And we braved North Carolina's Outer Banks during the strong winds of a Nor'easter, exploring sea-level rise and coastal development as we learned that, while scientists, regulators and city planners all agree the seas are rising, the real debate is over how (and when) to respond.
Participating Journalists:
Katie Burke, associate editor, American Scientist
John Carey, freelance journalist, Scientific American
Christina Cooke, freelance journalist/photographer, The Atlantic
Emery Dalesio, business writer, The Associated Press (Raleigh, N.C.)
Ambar Espinoza, environment reporter, Rhode Island Public Radio
Sammy Fretwell, environment writer, The State (Columbia, S.C.)
Elizabeth Harball, reporter, ClimateWire
David Huppert, producer, UNC-TV
Catherine "Cate" Kozak, freelance journalist, Island Free Press
Susan Ladd, senior reporter, News & Record (Greensboro, N.C.)
Randy Loftis, environmental writer, Dallas Morning News
Linda Marsa, contributing editor, Discover
Sarah McCammon, bureau chief, Georgia Public Broadcasting
Eric Mennel, reporter/producer, North Carolina Public Radio
Sara Peach, freelance journalist, Yale Forum on Climate Change
Bruce Siceloff, transportation reporter, News & Observer (Raleigh, N.C.)
Trista Talton, freelance journalist, Coastal Review Online
Sarah Zielinski, freelance journalist, Science News

Click the interactive map below to see where we went and what we discussed:
Post-Institute Stories
Read a sampler of stories that participating journalists produced, based on the issues we covered during the trip.
What to do about pig poop? North Carolina fights a rising tide - Sara Peach, National Geographic News
Do Not Buy Oceanfront Property - Sarah Zielinski, Slate
Rising Seas: Will the Outer Banks Survive? - Sara Peach, National Geographic News.
Climate change experts become endangered species along the N.C. coast – Elizabeth Harball, ClimateWire
Resort's troubles threaten to erode SC beach laws - Sammy Fretwell, The State
The scribes meet the Outer Banks - Catherine Kozak, Coastal Review Online
Cats, chemicals and consumer power - David Huppert (editor), QUEST
Field reporting: Why there's no substitute for being there - Adam Hinterthuer (IJNR), The Science Writer's Handbook
Toxic legacy can last a lifetime – Susan Ladd, the News-Record
N.C. coastal fishermen challenge sea turtle regulations – Bruce Siceloff, The News & Observer
How to count a sea turtle – Sarah Zielinski, ScienceNews
While the seas rise in the Outer Banks and elsewhere in NC, science treads water - Bruce Siceloff, The News & Observer
Sea turtles should no longer be protected, fishing groups argue – Sammy Fretwell, The State
Companion Reader
Looking for some background reading on the issues that we covered on the North Carolina trip? Check out this series of stories that we put together for our participating journalists to read before and during the trip.
NBC News – Part 1: Why taxpayers will bail out the rich when the next storm hits
Part 2: Meet the flood insurance 'Robin Hood' who saves condo owners millions
Part 3: For average joes, fighting FEMA flood maps isn't easy or cheap
Washington Post – N.C. coastal dredging plan irks beach communities, environmentalists
Charlotte Business Journal - NC Senate passes Senate Bill 612 limiting local environmental controls
The Christian Science Monitor – Unexpected ally against future hurricanes: Nature?
The News & Observer – Erosion closes Outer Banks bridge, NCDOT plans repairs and emergency ferry
Public Radio East – Work is underway to repair the Bonner Bridge
The News & Observer – NC Coastal counties criticize request for homeowners' insurance rate hike
The Daily Climate – The man who made sea-level rise go away
The News & Observer – DOT airs options for lifting NC 12 Highway above Outer Banks
Coastal Review Online – Bald head prepares terminal groin project
Coastal Review Online – Dredging plan ignites new sand skirmishes
Endeavors – The future of the Outer Banks
Coastal Review Online – State taking another look at inlet rules
The Virginian-Pilot – Hurricane Irene's Furious Surge in Pamlico Sound
Coastal Review Online – Hurricane Sandy: Now the new normal?
The News and Observer – Hurricane warning system gets boost from UNC-Chapel Hill computer center
Endeavors – Living in a state of thirst
Facing South – NC hog farm threatened with citizen lawsuit over water pollution
Endeavors – The price of pork
National Geographic News – Water in America: Is it safe to drink?
Coastal Review Online – Lower Neuse River watershed being destroyed
Endeavors – Water rights and wrongs
ToxInsider – The Pollution Next Door
Environmental Health Perspectives – Mito-Conundrum
Chicago Tribune – Tribune Watchdog: Playing with Fire
The News & Observer – Foul fish may extend to Neuse
U.S. Department of Energy – The environmental justice movement
Neuse Riverkeeper – PCB contamination
Environmental Factor – Duke SRP uses blog to explain research projects
Coastal Review Online- Part 1: A disturbing report about wetlands
Part 2: Bad moon arising over state's wetlands?
Part 3: How aggressive will the state be?
Coastal Review Online – Pamlico land clearing raises concerns
Coastal Review Online – Work begins on Hyde runoff project
The Washington Post – Study says US can't keep up with loss of ecologically sensitive wetlands
The Washington Post – North Carolina need 6,500 farm workers. Only 7 Americans stuck it out.
QUEST – Restoring oyster reefs
Public Radio East – Coastal scientists seeking to change oyster regulations
Coastal Review Online – A new approach to rebuilding oyster reefs
Carolina Country – What's the Catch?
The Washington Post – Shad catch limited in move to restore depleted fishery
The Daily News – Rise of invasive tiger shrimp reports expected as fall approaches